GLOBES WITH 60MMØ FITTER INCLUDED
Finding the right globe and mounting options that work for your project can be tricky. This page presents one of three of our main globe ranges. This page is dedicated to our F6000 range of globes, that have a fitter included with 60mmØ mounting.
Giving examples of the vast range of mounting applications that can be made with and without the various mounting accessories available.
F6000 F6001 F6002 F6003 F6004 F6005
Mix & Match: 14 Globes - 7 Mounting Options!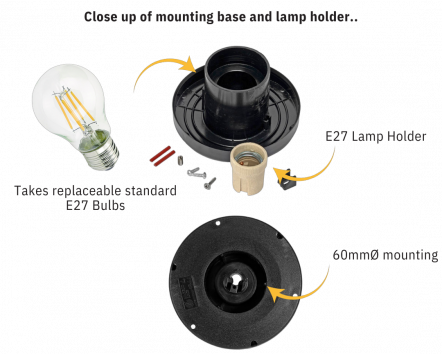 Here's a summary of this range, but keep scrolling to find out more:
Quality Italian made LED Replaceable globes with fitter included
6 globe sizes available with the standard E27 lampholder
F6000, F6001, F6002, F6003, F6004 are available in either Opal or Smoke colourways
F6005 is available in Opal only
This range also includes 3 LED integral models: FLED6002 (available in Opal or Smoke) and FLED6003 (available in Opal only)
7 possible mounting options for models within this range
Globes made from PMMA acrylic with polycarbonate base fitters
F6000 E27 LED Replaceable Globes
Our F6000 range has 5 standard globe sizes. Starting from our smallest globe at 200mmØ (F6000) all the way up to a 500mmØ (F6005). These 5 sizes of globes are available in both our Opal or Smoke colourways, and have an easy on and off twist lock lens design.
Each globe has a standard E27 lamp holder - making future replacements easy as you can buy generic replacement bulbs off the shelf - and are LED Replaceable, double insulated with a 60mmØ mounting.
We have a larger 600mm globe, available in our Opal colourway only. Which is also E27 LED replaceable, IP65 and has an internal heat deflector.

FLED6000 LED Integral Globes

The FLED6000 range of globes are LED integral, and are available in two sizes.
A 300mmØ globe available in either Smoke or Opal. This twist lock acrylic globe is 8W LED, double insulated and IP44.
We also have a larger 15W LED 400mmØ globe available in Opal only.
The FLED6000 range also has a dark sky design, meaning less light pollution - great for more rural areas to minimse the effect on wildlife.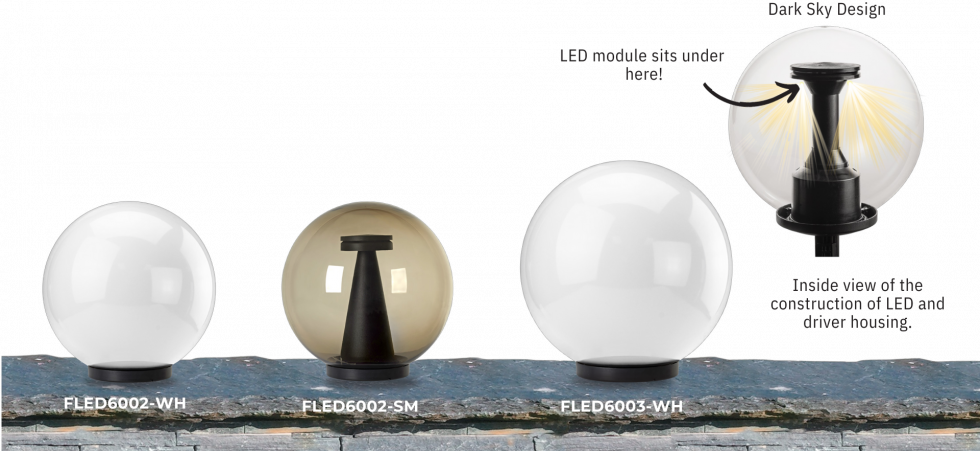 Compatible Mounting Options
Poles, adapters and wall brackets compatible with the F6000 and FLED6000 range. See codes for products listed below..
Poles: BZ-POLE60-1BL, BZ-POLE60-2BL & BZ-POLE60-3BL
Keep scrolling for example of how these mounting accessories can be used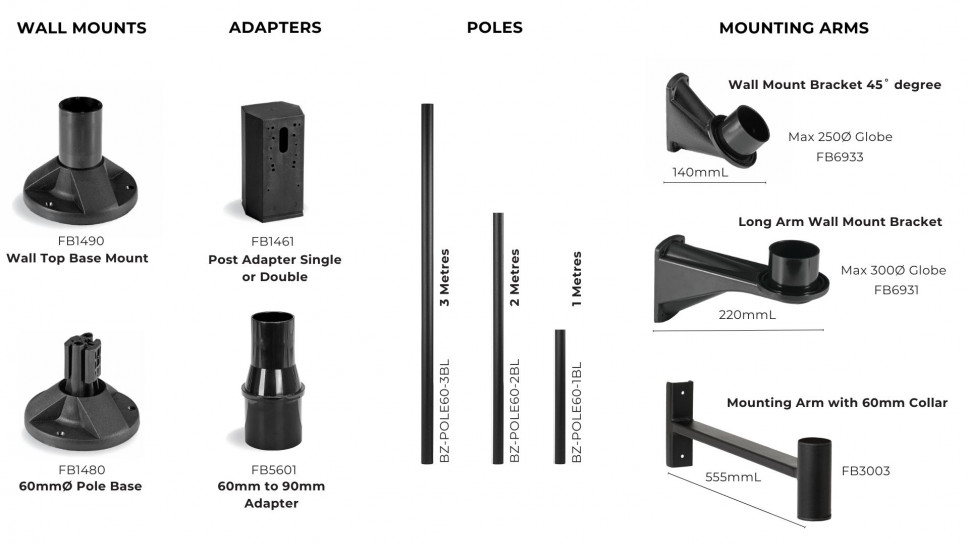 Globes Shown Fitted On Pole
Image below shows models from this range mounted on a pole
Recommended poles: BZ-POLE60-1BL, BZ-POLE60-2BL & BZ-POLE60-3BL
All globes in the F6000 and FLED6000 range are compatible with pole mounting using the poles mentioned above

Globes Shown Fitted On Pedestal
Image below shows globes mounted on the FB1490 Wall Top Mount Base Pedestal
There is no post required when using this mounting base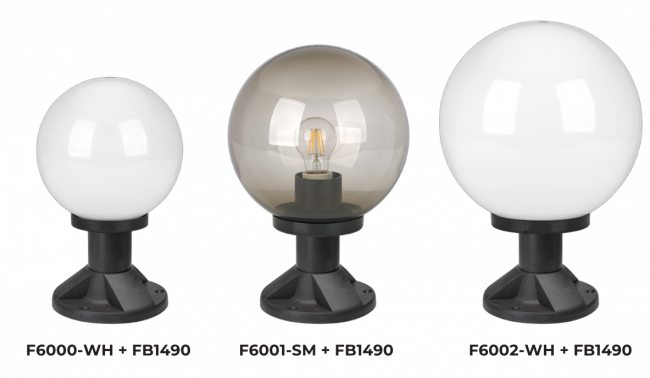 Globes Fitted Using Large to Small Post Adapter
The range of F6000 and FLED600 globes fit directly into the top of the large to small post adapter
The FB5601 post adapter fits into a 90mmØ (external) pole
Or can slide over a 76mmØ pole
Pole Mount Globes Using Post Adapter & Mounting Arm
You can mount one or two globes onto a pole using our FB1461 single or double post adapter
Examples shown below are F6000 range globes using the post adapter and the Long Arm (FB6931) or 45° Angle (FB6933) wall brackets
Place post adapter over pole/post and attach either one of two mounting arms based on your desired configuration
See below for just some of the mounting options for the FB1461 Single or Double globe configurations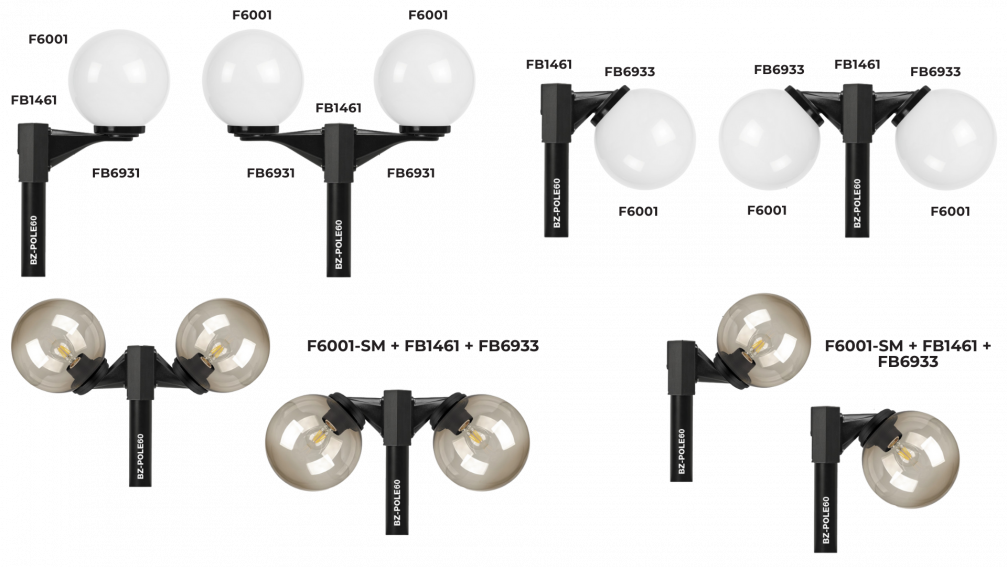 Globes Shown Wall Mounted With Wall Brackets
Globes shown below mounted directly onto wall using our FB6931 and FB6933 wall brackets
Globes can be mounted facing upwards or downwards

Globes Shown Fitted With Angle Wall Bracket
Globes shown fitted to the FB6933-BL Angled Wall Bracket
Bracket has a 45° angle
Note: If mounting with the bracket facing down, use a silicon sealant
Globes shown below fitted with the angle wall bracket and the single or double mount adapter

Globes Shown Fitted With Long Arm Wall Bracket
Globe shown fitted with the FB6931 Long Arm Wall Bracket

It has a 60mmØ collar to mount lanterns heads or globes

Bracket is 220mmL and compatible with globe models F6003 and below
Note: If mounting with the bracket facing down, use a silicon sealant

Globes Fitted With 555mmL Mounting Arm
This range of globes is also compatible with our FB3003 Long Arm Wall Mount fitting
The long arm wall mount can be wall or pole mounted
Checkout the images below on ways to mount the bracket onto a pole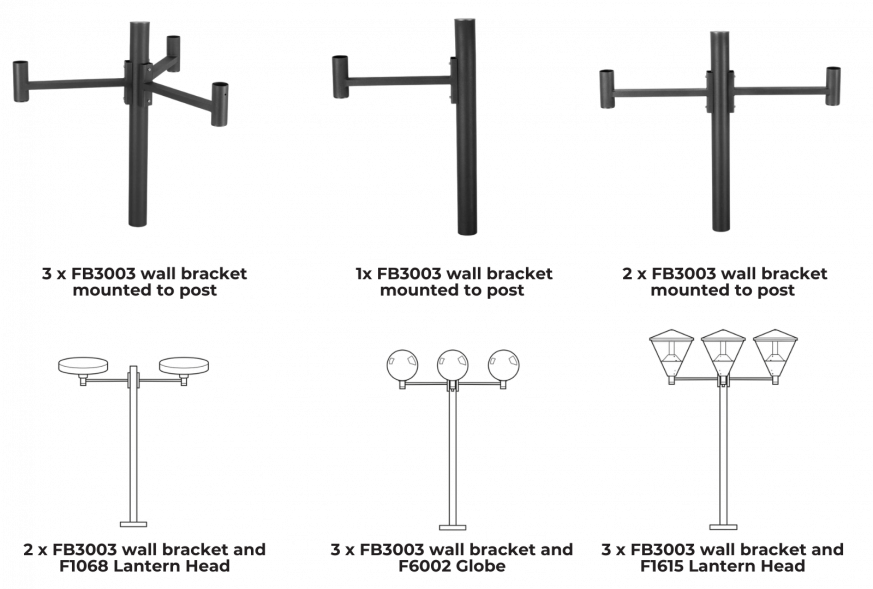 You can find out more about each product mentioned here - including stock levels and compatible products - on the product pages linked throughout the page. If you have more questions about this globe range, reach out to our knowledgeable customer service team.
To read about our Neckless Globe Range click here, or to find out more about our Twistlock Globe Range, click here.